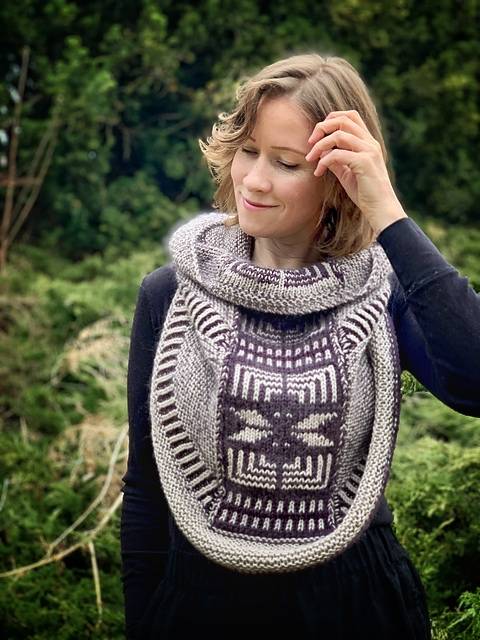 The Eriatarka Shawl by Annie Haas of This.Bird.Knits packs double-knitting, marling, and two-color brioche all into one beautiful and cozy shawl!
If any of these techniques have been on your knitting to-do list, a shawl is definitely a good time to try any of them.
For color combo inspiration, check out the #eriatarkashawl hashtag on Instagram to see the various color combinations our amazing test knitters chose.
As of this writing (4/7)- The Merino DK base is temporarily out-of-stock for Dyed-to-Order, but any fingering weight yarn held double would make an excellent substitute. I think the Merino Singles base in particular would be 🥰!
Sizing, Yarn, & Yardage Information
Finished Dimensions:
Depth = 20.5" // Wingspan = 77"
Sugarplum Circus Merino DK: 231 yards/100g
Yarn A (Shown in Moon) = 590 yards (3 skeins)
Yarn B (Shown in Smokescreen) = 440 yards (2 skeins)
Sugarplum Circus Mohair Lace 459 yards/ 50g
Yarn C (Shown in Smokescreen) = 400 yards (1 skein)