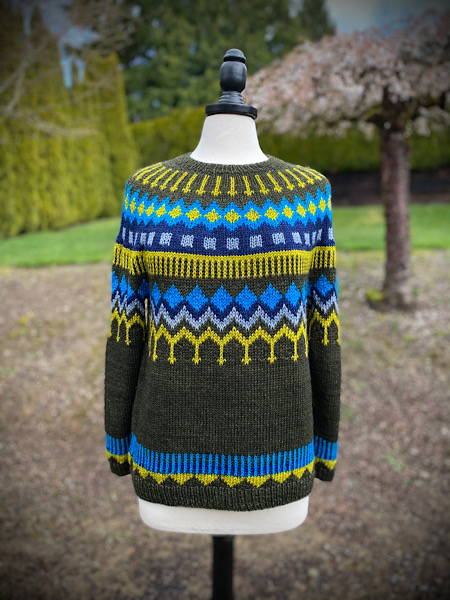 Get ready for some horn-tooting! 🥳🥳🥳
This is the Marshland sweater by Tin Can Knits, and I am so pleased and proud of how well it turned out, I just have to toot my own horn about it! 🥳🥳🥳
Not to scare any of you off from knitting this beautiful design- but this is probably the most advanced colorwork sweater I've knit so far. 😅 There are some 3-color rounds in the body, and you also go straight into colorwork when you go to start the sleeves, followed by some intense 3-color rounds shortly after that as well.
I don't think 3-color knitting is necessarily "hard", but I did have to slow down and remember to breathe!
As far as the colors- the knit-worthy sweater recipient loved the colors of the original design, so I used my versions of those colors, which are: Olive Juice, Cactus, Deep Truth, Scuba, & Narwhal.
If you'd like additional color inspiration for this design, check out the #marshlandsweater hashtag on instagram!
Sizing, Yarn, & Yardage Information
Sizes: 0-6 mo (6-12 mo, 1-2 yrs, 2-4 yrs, 4-6 yrs, 6-8 yrs, 8-10 yrs, Women's XS, S, SM, M, ML, L, LXL, XL, XXL, 3XL, 4XL, Men's S, M, L, XL, XXL, 3XL, 4XL)
Finished Chest Measurement:
18.5 (21.5, 24, 24, 26.5, 29.5, 29.5, 32, 34.5, 37.5, 37.5, 40, 42.5, 46, 50, 53.5, 57, 60.5 37, 40.5, 44.5, 50, 53.5, 57, 61)"
Yarn used for sample shown: Sugarplum Circus BFL DK: 246 yards/100g
MC: 200 (275, 300, 375, 400, 475, 550, 575, 600, 675, 700, 750, 800, 850, 900, 975, 1075, 1100, 750, 850, 875, 1000, 1050, 1100, 1200) yards
1 (2, 2, 2, 2, 2, 3, 3, 3, 3, 3, 3, 4, 4, 4, 4, 4, 5, 5, 4, 4, 4, 5, 5, 5, 5) skeins
Each CC: 75 (100, 100, 100, 125, 125, 150, 125, 125, 150, 150, 150, 175, 175, 175, 200, 200, 225, 150, 175, 175, 200, 200, 225, 225) yards
All sizes: 1 skein each