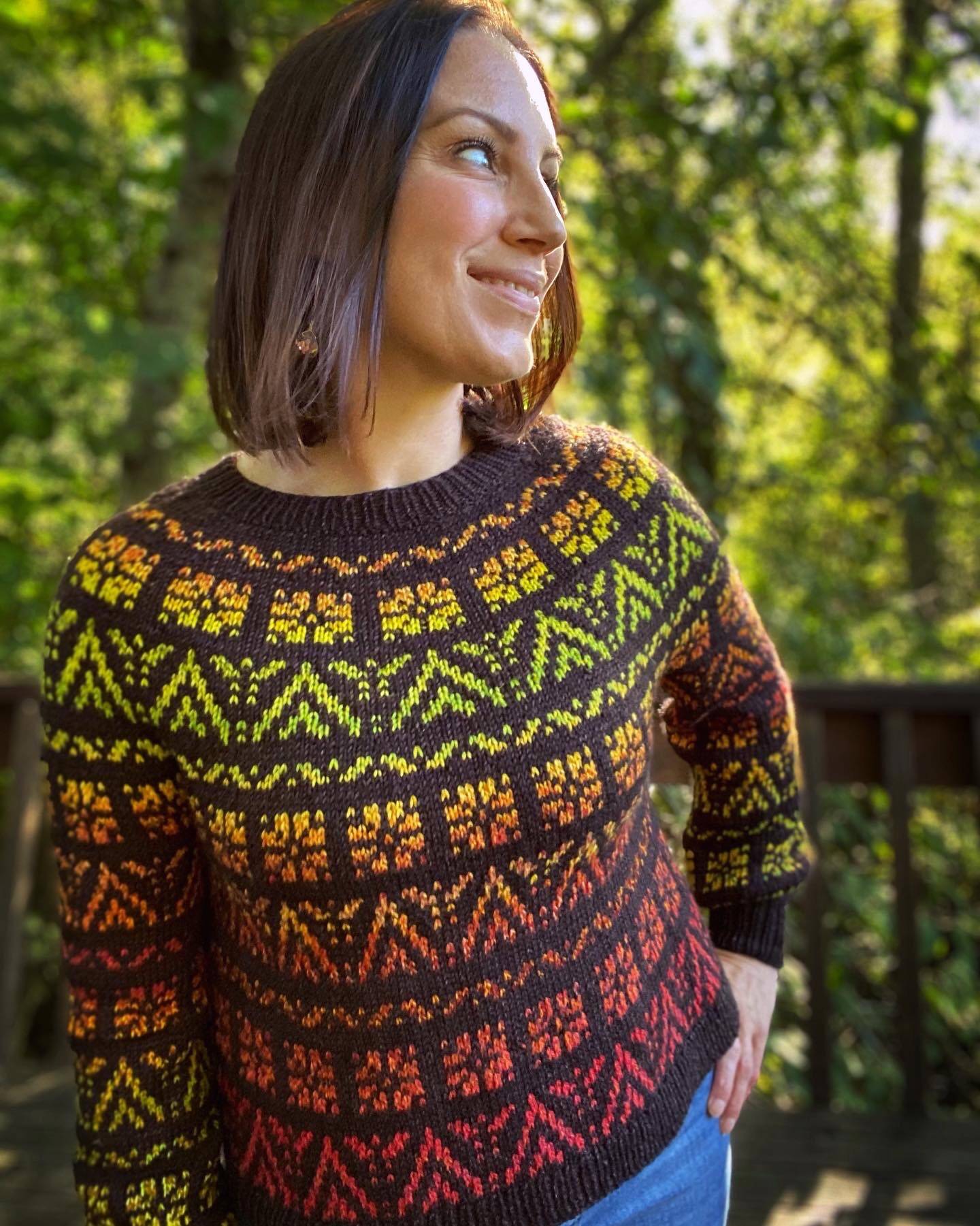 Ok, so I just really love this one. 🥰
I mean- check out that awesome Spincycle fade! 🤩
Nadine is the latest design in This.Bird.Knits' ongoing Twin Peaks collection, and features Sugarplum Circus BFL DK along with Spincycle's Dream State.
I used the Sugarplum Circus Espresso colorway for my MC, and Spincycle End of Summer & Devilish Grin for my CC's.
I hadn't originally planned on fading my End of Summer skeins into anything else, but when I saw how that first skein faded in and out of that cool lemon/lime part and back into orange, I wanted to try to do something epic!
So I got some orange-leaning skeins of Devilish Grin and went to work. 😅
The body was actually pretty easy to fade, but the sleeves took a bit of knitting and re-knitting to get them just right.
As far as mods go- I pretty much followed the pattern, aside from leaving out the very last motif on the body to shorten it a bit, and I did not do the optional waist-cinching decreases.
I also lengthened the sleeves a bit by adding a couple more colorwork motifs there.
All in all, I can honestly say that weaving in all of those ends was totally worth it, because I love my sweater! ☺️
Check out the #nadinesweater hashtag on Instagram for even more color combo inspiration!

You can order Sugarplum Circus BFL DK through any of the Dyed-to-Order listings, and you can order Spincycle Dream State: Here
Sizing, Yarn, & Yardage Information
Sizes (1, 2, 3) (4, 5, 6) (7, 8, 9)
Finished Body Circumference:
(35.6, 38.2, 40.7) (43.2, 45.8, 48.3) (51, 56, 61)" /
(90.4, 97, 103.4) (109.8, 116.3, 122.7) (129.6, 142.3, 155) cm
Yarn A: Sugarplum Circus BFL DK (shown in Espresso): 246 yards/100g
Approximately (636, 660, 708) (780, 816, 894) (960, 1032, 1152) yards
(3, 3, 3) (4, 4, 4) (4, 5, 5) skeins
Yarn B: Spincycle Dream State :
Approximately (424, 440, 472) (520, 544, 596) (640, 688, 768) yards