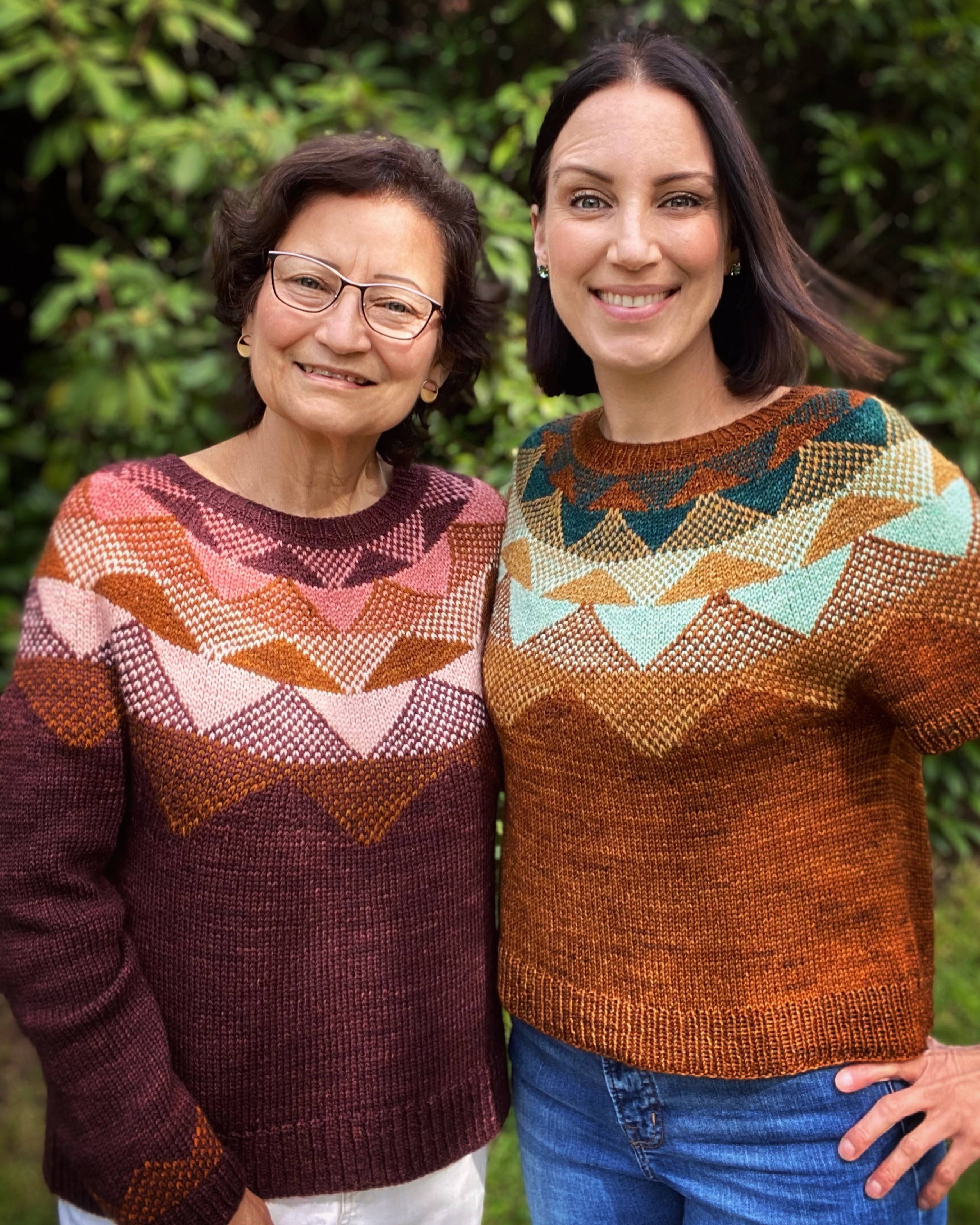 Pretty sure you're never too old for matching sweaters with your Mom! 🥰
I was fortunate to be able to test knit this fun colorwork sweater design for Maxim Cyr (@maxtheknitter).
This colorwork yoke is just SO much fun for color play; choosing the colors is half the fun!
My Mom's was the first one I knit, and I was pretty stoked that I got gauge easily with my BFL Sport- Which is a really great sweater yarn if you have yet to try it!
As I was finishing up the body on my Mom's sweater, I kept noticing these skeins of Sugarplum Circus Merino Sport in my personal stash (yes, I stash my own yarn! 😂) that were just begging to be knit up into a second Hide and Peak sweater.
The added thought of having matching hand knit sweaters with my Mom was enough to get me to cake up and swatch said skeins, and I became a knitting maniac over the following 3 weeks to get them both done before the deadline.
My gauge was a touch small with the Merino Sport, but I liked my fabric on the US 6's, so I knit one size larger, and it turned out great!
Let me tell ya- The look on my Mom's face when I pulled out my own Hide and Peak sweater after she had hers on was well worth the late nights!
I honestly had so much fun knitting these, though... I'm almost tempted to put together another combo for a 3rd! 😅
Trust me- If you love colorwork sweaters, you will want to knit this sweater!
I just love the combination of high and low contrast within the same design.
For even more color combo inspiration- Check out the #hideandpeaksweater hashtag on Instagram!
Sizing, Yarn, & Yardage Information
Sizes: XS (S, M, L, XL)(2XL, 3XL, 4XXL, 4XL, 5XL)
Finished Chest Circumference:
32 (36, 40, 44, 48)(52, 56, 60, 64)"
Yarns used for samples shown above & below are:
Long-sleeved version: Sugarplum Circus BFL Sport: 287 yards/100g
Short-sleeved version: Sugarplum Circus Merino Sport: 328 yards/100g
Yardage:
Note that yardage is estimated and may vary depending on yarn used, gauge variations or modifications.
Yardage provided below is for long-sleeved full-body length as shown on Max's original sample.
My own samples used at least one full skein less of the MC, as I did not knit either of them to full length.
MC (shown on samples above & below in Raisin (BFL Sport) & Rye Whiskey (Merino Sport)):
967 (1065, 1172, 1290, 1418)(1561, 1717, 1889, 2077) yds
BFL Sport: 4 (4, 5, 5, 5)(6, 6, 7, 8) skeins
Merino Sport: 3 (4, 4, 4, 5)(5, 6, 6, 7) skeins
CC1 (shown in Mabel (BFL) & Forbidden Forest (Merino)): 65 (71, 78, 85, 94)(104, 114, 127, 140) yds
Both BFL Sport & Merino Sport: 1 skein all sizes
CC2 (shown in Rye Whiskey (BFL) & Mustard Seed (Merino)): 140 (153, 169, 185, 204)(224, 247, 273, 299) yds
BFL Sport: Sizes XS-4XL: 1 skein; Size 5XL: 2 skeins
Merino Sport: 1 skein all sizes
CC3 (shown in Peony (BFL) & Dewdrop (Merino)): 84 (94, 104, 115, 127)(140, 153, 169, 185) yds
Both BFL Sport & Merino Sport: 1 skein all sizes